Are you looking for a way to celebrate St. Patrick's Day that involves more than warm green beer and potatoes? I'm taking this year, with the Coronavirus scare, as an opportunity to try out some new recipes at home. As we practice social distancing and avoid crowded pubs and bars this season, here are some fun, healthy appetizers for small gatherings of friends or family at home.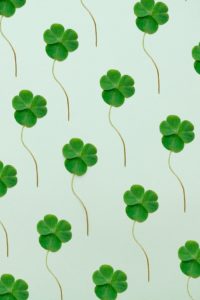 Guinness and Spinach Dip
This rich and zesty dip is full of bold flavors and the green color and splash of Guinness make it perfect for St. Patty's Day. It pairs well with whole wheat crackers (like Triscuits) or even tortilla chips. If you are getting together with some friends or family, encourage everyone to serve themselves on a plate rather than dipping in directly to cut back on sharing germs.
Ingredients
1 8-oz package of cream cheese, softened
1 6-oz bag fresh spinach
1 tablespoon olive oil
1 stalk green onions, finely sliced
2 cloves garlic, peeled and chopped
¼ cup Guinness
¼ cup shredded cheddar cheese
1 teaspoon mustard
Hint of salt and pepper, to taste
Directions
In a large skillet, sauté fresh spinach in olive oil over medium heat for 2-3 minutes or until spinach is thoroughly wilted, but not overcooked.
Combine softened cream cheese, sautéed spinach, green onions, garlic, Guinness, cheddar cheese, mustard, salt, and pepper in a large bowl and blend with immersion blender (or use a food processor) until mostly smooth. Cover and refrigerate; allow to soften at room temperature for about 30 mins prior to serving.
Avocado Deviled Eggs
This is a traditional crowd pleaser with a twist of festive green color and healthy fats. Creamy avocado takes the place of mayonnaise in this recipe, so make sure you pick a nice ripe one (but not overly brown) for best results.
Ingredients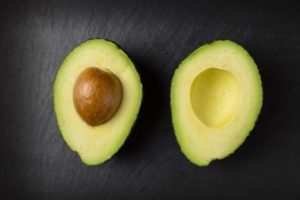 6 hardboiled eggs
1 avocado, peeled, pitted, and chopped
1 teaspoon mustard
1 tablespoon lemon juice
2 tablespoons fresh chives, finely minced
1 tablespoon jalapeno pepper, finely minced
A hint of salt and pepper, to taste
Directions
Peel and slice the hardboiled eggs in half. Remove the yolks and place into a medium bowl with the avocado, mustard, lemon juice, chives, jalapenos, salt, and pepper. Mash the ingredients together until well combined.
Arrange the egg white halves onto a serving plate. Use a spoon to scoop the egg yolk mixture back into each egg white. Garnish with some additional fresh chives and a dash of ground pepper if desired. Only prepare a couple hours in advance, if possible, and keep them in a well-sealed storage container in the refrigerator until ready to serve so the avocado mixture keeps its bright green color.
Green Fruit Skewers
These skewers make a simple, yet attractive appetizer. They are also fun and easy for kids to make (and eat!) as a project while out of school.
Ingredients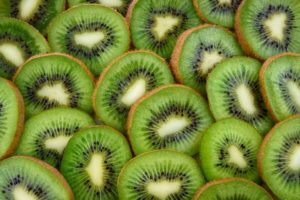 1 large green apple, cored and chopped
3 large kiwis, peeled and quartered
2 cups honeydew melon, chopped
24 green grapes, washed and whole
1 wedge of lime
12 long wooden skewers
Directions
Squeeze the lime wedge over the chopped green apple pieces to keep them from turning brown.
Thread the fruit on skewers (about 1-2 pieces apple, 1 piece kiwi, 1-2 pieces honeydew, and 2 grapes per skewer). Prep a couple hours in advance; cover and refrigerate prior to serving.
Go Green Salad
This light and fresh salad is perfect for Spring and captures the spirit of St. Patrick's Day with its variety of green hues.
Ingredients
1 large cucumber, chopped
1 green pepper, chopped
1 cup heirloom green tomatoes, chopped
¼ cup fresh basil leaves, chopped
½ cup fresh mozzarella pearls, sliced in half
2 tablespoons balsamic vinegar
1 tablespoon olive oil
1 teaspoon honey
Pinch of oregano
A hint of salt and pepper, to taste
Directions
In a small bowl, whisk together balsamic vinegar, honey, olive oil, oregano, salt, and pepper.
In a large bowl, combine cucumbers, green peppers, tomatoes, basil leaves, and fresh mozzarella. Drizzle balsamic vinaigrette over the salad and toss until well combined. Cover and refrigerate until ready to serve.
Just because we can't hit the local pub this St. Patrick's Day, doesn't mean the spirit of the holiday has to go! I plan on wearing green, having a Guinness, and serving these four appetizers as dinner at home for my immediate family. Stay safe and wash your hands! Sláinte!