Hi I'm Anna Matthews! I'm a senior at Appalachian State University and Maria's intern for the summer. As a college student, I don't have the time, money, or energy to make extravagant meals. However, it is important to me that I cook most of my meals and maintain a healthy diet. The recipes I'm sharing with you have been my staples throughout my years as a college student. Having a handful of cheap, easy, and healthy recipes makes it easier for me to maintain my weight, stress levels, and grades.
Overnight Oats (breakfast)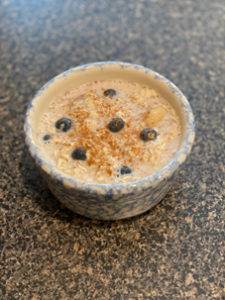 I make these overnight oats all the time!! It's so convenient to already have your breakfast made when you wake up in the morning. What I love the most about overnight oats is how versatile they are; you can change out the toppings for whatever you have available.
Ingredients:
1/2 cup of rolled oats
1 cup of Oikos triple zero Greek yogurt (optional)
1 cup of milk of choice (Skip if you added yogurt)
1 tablespoon of chia seeds (optional)
Cinnamon to taste
Nutmeg to taste
Frozen or fresh fruit of choice. I recommend berries and banana
Top with nut butter (optional)
Combine ingredients above in a Tupperware or mason jar. Put in refrigerator overnight and eat the next morning. Can last in the fridge up to 5 days. Can be consumed cold or heated.
Baked Sweet Potato (lunch)
I absolutely love sweet potatoes!! Every Sunday I bake them in advance to eat throughout the week. I usually top them with whatever veggies I have in my fridge!
Wash and dry sweet potato
Poke holes all over sweet potato with a fork
Drizzle a small amount of olive oil and sea salt
Bake at 400 degrees for 45min
Eat right away or cool and store in refrigerator for up to 5 days
My two favorite topping combinations:
Grilled chicken, spinach, and broccoli
Turkey sausage, spinach, and zucchini
Baked Chicken and Roasted Veggies
This dinner is super easy because you can throw your chicken and veggies on one pan and get homework or laundry done while it's cooking. I alternate which vegetables I use based on what's on sale and in season. I always make enough to have leftovers, so I have lunch or dinner for the next day!
Preheat oven to 375 degrees
Chop up vegetables of choice (my favorites are broccoli, bell peppers, and brussel sprouts) and season with:

1tbs olive oil
Pinch of salt
Black pepper
Garlic powder
Onion powder

Pat chicken breasts dry, drizzle with olive oil, and add seasonings of choice. (I prefer: salt, black pepper, lemon pepper, garlic powder, onion powder, and paprika).
Add chicken and veggies to a baking sheet and bake until the thickest part of the chicken reaches 165 degrees, about 30min. Flip the veggies halfway through.