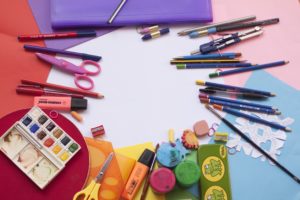 We are all going to have a huge shift in our normal routines over the next few weeks (or longer). It would be really easy for all of us to stay in pajamas all day and "stress eat"! While this situation is certainly less than ideal, let's try to make the best of it. We can take this opportunity to enjoy simple things in life or do to things we never have time to do. Here are some ideas:
Inside Activities – if you don't have these items order them on the internet.
Puzzles, board games, card games/uno or solitaire.
Clean out arts and craft supplies, get rid of the old ones. Use the ones that are still good to make fun crafts.
Buy a 12×12 canvas and paint abstract art using colors that you love.
Watch old movies or new ones
Call an old friend or family member that you haven't talked to in a while, better yet use FaceTime/Skype/etc to "see" them!
Clean out your closet, attic or basement
Clean out your pantry. Donate foods you don't want to your local food pantry if not expired.
Clean out old books and board games, try to find a place to donate for other kids that may not have these items.
Work on your house projects that you usually do not have time to do.
Order air filters online, change out filters in your home. Do the same with batteries/smoke detectors.
Read a book, maybe one that you would not ordinarily choose.
Brush up on current info for job/career. Complete continuing education credits (online).
Organize old pictures, send copies of favorite pics to grandparents or other family/friends.
If able, order groceries online for food insecurity programs and donate food items to your local food pantry. Do this with your kids to teach them about food insecurity.
Learn to knit, hand knit or crochet.
Have a dance party with your family. Could also do outside with neighbors and a good speaker.
Write a list of things in which you are grateful.
Color a picture – they make great coloring books for adults too!
Younger kids- have them build a fort with furniture, blankets and pillows.
Create a treasure hunt game in your house.
Make homemade playdough, https://www.playdoughrecipe.com/cream-of-tartar-playdough-recipe/
Film a home movie
Self care:
Give yourself a manicure/pedicure
Give yourself a home facial.
Try some new workouts, you can find many online (as long as your doctor says it is ok to exercise).
Teach yourself to mediate, order a book or find instructions online
Take a walk with a family member, neighbor or dog.
Take a hot bubble bath.
Outdoor activities
Tidy up your yard or garden. You could also do this for an older neighbor or one with lots of young kiddos.
Have a few friends over to visit outside, everyone brings their own beverage in an insulated cup.
Pack a lunch and go to a lake or the beach for the day. Bring what you will need with you.
Wash your car inside and out.
Clean out your garage. Could also paint your garage, you can order supplies online.
Wash your windows or other outside areas that need cleaning.
Stay up late and watch the stars with your family members.
Get up early and watch the sunrise.
Blow bubbles
Hula Hoop or hop scotch
Make and fly paper airplanes
Make homemade bird feeders and watch the birds
Make fun and healthy snacks/food
Zucchini Muffins
Ingredients:
2/3 cup brown sugar
1/4 cup oil – canola or grapeseed
3/4 c unsweetened applesauce (could use Plain Greek yogurt)
3 eggs
2 to 2 ½ cups shredded zucchini – skin on!
3 cups whole wheat flour
2 tsp baking powder
2 tsp cinnamon
2 tsp vanilla
¼ tsp baking soda
1/2 tsp salt
1 to 2 cups total of any combination of the following (raisins, chocolate chips, nuts, sunflower seeds)
Mix dry ingredients, add wet ones. Pour into greased baking cups. Bake in preheated oven @350 F for 20-25 mins or when inserted toothpick comes out clean. Makes 18 muffins.
Banana Oat Muffins
1 ½ cups whole wheat flour
1 heaping cup quick oats
¾ cup brown sugar
1 tsp baking soda
1 tsp baking powder
2 tsp cinnamon
¼ tsp salt
2 large or 3 medium ripe bananas, mashed well
¼ cup canola oil
1/2 c plain Greek yogurt
2 large eggs
1 tbsp vanilla
½ cup dark chocolate chips (optional)
Cooking spray
Preheat oven to 350 F. In a large mixing bowl, combine flour, oats, brown sugar, baking soda, baking powder, cinnamon and salt. In a separate bowl combine bananas, oil, eggs and vanilla. Mix wet ingredients into dry ingredients until well mixed. Stir in chocolate chips. Spray one muffin tin for 12 muffins with cooking spray. Place batter into muffin tin. Bake for 20-25 minutes or until a toothpick inserted in center comes out clean.
Pumpkin muffins
1 3/4 cup whole wheat flour
3/4 cup sugar
1/2 cup oat bran
1 tsp baking soda
1/2 tsp salt
1/2 tsp baking powder
1/4 tsp nutmeg
1/2 tsp cinnamon
1/2 tsp cloves
1 cup canned pumpkin
2 eggs
1/2 cup unsweetened applesauce
1 tsp vanilla extract
Preheat oven to 350 F. Combine dry ingredients in one bowl and mix well. Mix wet ingredients in another bowl and mix well. Mix wet/dry together until well combined. Spray muffin pan with nonstick spray. Pour batter into muffin pan. Bake in preheated 350 F oven for 20-25 mins or until toothpick inserted into center of muffin comes out clean.
Beach Photo by Maria Kennedy