July 4th is an exciting midsummer holiday that Americans across the country enjoy indulging in, including myself. Like any other holiday, July 4th inspires a lot of unhealthy foods and activities. However, it is possible to participate in this holiday while maintaining a healthy lifestyle. With the COVID-19 precautions still in place, it would be fun to try out some new recipes and activities with family and close friends.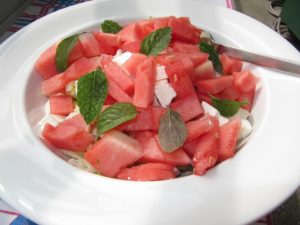 Watermelon, Cucumber & Feta Salad
This healthy salad recipe is the perfect side dish to your July 4th bar-b-que! Watermelons and cucumbers are at their juiciest and most flavorful during the summer. The feta brings all the flavors together by adding a salty and tangy element to the salad.
Ingredients:
1 small watermelon, diced (or 1/2 of a large)
1 small red onion, chopped fine
5 small cucumbers
8 oz feta cheese crumbled
juice of two or three lemons
2 tbsp olive oil
dash of salt
pepper (optional)
1/4 cup fresh mint chopped (optional)
Directions:
Whisk olive oil, lemon, salt and pepper in a small bowl until completely incorporated.
Combine watermelon, cucumber, feta and onion in a large bowl. Gently stir in the olive oil and lemon mixture. Refrigerate for at least 20 minutes or up to 2 hours.
Just before serving, gently stir in mint; drizzle with the remaining vinaigrette.
Cauliflower-Potato Salad with Horseradish Dressing, Inspired by EatingWell.com
Combining cauliflower and potatoes cuts down on the carbs.
Ingredients:
1 ½ pounds small new red and/or purple potatoes, halved or quartered
4 cups small cauliflower florets
1 cup chopped bell pepper
½ cup chopped green onions
Dressing:
½ cup nonfat plain Greek yogurt
¼ cup light mayonnaise
1 tablespoon mustard
2 teaspoons horseradish
2 teaspoons red-wine vinegar
½ teaspoon salt
½ teaspoon ground pepper, plus more for garnish
Directions
Place potatoes in a 6-qt. pot with water to cover. Bring to a boil and cook for 6 minutes. Add cauliflower; cook until the vegetables are tender, about 4 minutes. Drain, rinse with cold water to cool and drain again.
Combine dressing ingredients. In large mixing bowl, potatoes and remaining ingredients and toss with dressing. Add ground black pepper to taste.
BBQ Chicken, Inspired by OnTrackDiabetes.com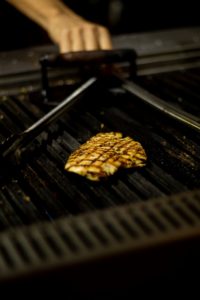 Grill this delish lower carb version of BBQ chicken. Prepare the sauce the day before, so you have more time to enjoy the July 4th!
Ingredients
10 ¾ ounce can tomato puree
½ onion, 3 ounces, chopped fine
3 tablespoons French style whole-grain mustard
3 tablespoons fresh lemon juice
1 tablespoons stevia
1 tablespoon Worcestershire sauce
1 tablespoon hot sauce
½ teaspoon ground all-spice
½ teaspoon ground ginger
1/3 cup water
1 tsp salt
Fresh ground pepper
6 chicken breasts, 6 ounces, each, bone-in, fat and skin removed
Olive oil cooking spray
Directions
To make the BBQ sauce:place the tomato puree in a deep saucepan. Add the onion and simmer slowly, covered, for 5 minutes.
Uncover and add remaining ingredients and simmer for about 10 minutes or until thick.
This makes about 2 cups which can be frozen, refrigerated for up to 4 days, or served warm immediately.  (You can make the recipe ahead to this point and then let the sauce sit overnight in the refrigerator in order to intensify the flavor.)
When ready to cook, preheat the grill.
Lightly coat the chicken breasts with cooking spray. Sprinkle chicken breast with ground pepper and place on the grill, bone side up.
Grill, turning frequently, for 20 to 25 minutes. Then, brush both sides of chicken with BBQ sauce.
Continue to grill until the chicken is no longer pink in the center.
Heat BBQ sauce in pan and  boil for at least 2 minutes, spoon over chicken.
Thanks for  Watermelon Salad Photo:Peterson, Mogens. "Melon Watermelon Feta Cheese Melon Melon Salad." Pixabay, August, 22, 2016. https://pixabay.com/photos/melon-watermelon-feta-cheese-cheese-1606061/
Thanks for Grilled Chicken Photo: Italo, Hiago. "Black and Brown Wooden Table." Pexels, May, 15 2019. https://www.pexels.com/photo/black-and-brown-wooden-table-2322426/