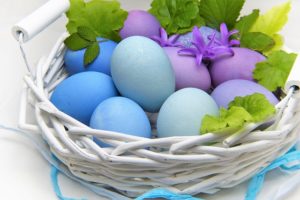 With the Easter Holiday coming up, I like to think of creative ways to eat hard boiled eggs. One of the most frequent questions I get asked in my private practice is "Are eggs healthy?" Over the years, nutrition science has gone back and forth about the healthfulness of eggs. My answer is for most people having a couple of eggs multiple times a week can definitely be a part of a healthy meal plan. Eggs have lots of good nutrition to offer. Two large/extra large eggs have about 14g of protein, which will keep you full and is usually a better choice than a high carb/low protein breakfast. The egg yolk does contain cholesterol and saturated fat. However, dietary cholesterol (the cholesterol we eat) we have learned over the years that does not have the negative impact on serum cholesterol (cholesterol in your blood) that we once thought it did. The yolks also contain many of the nutrients found in the egg such as vitamin D and vitamin A. Egg yolks are also one of the best sources of dietary choline. For most people eggs are a great part of a healthy meal plan. If you do have high cholesterol, work with your registered dietitian to see if eggs are ok for you. Here are some recipes:
​How to make hard boiled eggs: Add eggs to a large sauce pan and cover with water. Place pan over medium high heat and watch until it boils. When the eggs begin to boil, cook over heat for one minute then turn off heat. Let eggs sit for 12 mins. Remove pan from stove and run eggs under cool water. Promptly use or refrigerate.
Egg salad: 4 hardboiled eggs mashed, 1 tbsp of nonfat plain Greek yogurt, 1 tbsp of Hellmanns' Olive Oil Mayo, 1 tsp of Dijon mustard, dash of pepper, dash of salt and dash of paprika. Mix all together until well blended. Store refrigerated.
Regular deviled eggs: https://www.diabetesfoodhub.org/recipes/devilled-eggs.html
​Avocado deviled eggs: 6 hardboiled eggs – gently cut in half with yolks removed. Mix mashed yolks with 1 ripe avocado, ½ tbsp of lime juice, ¼ tsp of pepper, ¼ tsp of cumin, ¼ tsp of garlic powder, can also add diced pickled jalapeno and/or hot sauce to taste. Fill mixture back into sliced egg halves. Store refrigerated until ready to serve.