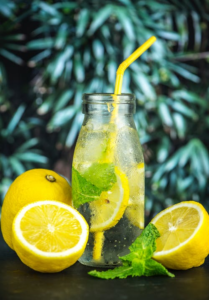 We all know we're supposed to drink more water. But let's face it—sometimes water gets boring and drinking enough can feel like a real chore. Here are some fun, creative ideas for keeping the family healthy and hydrated all summer:
Seltzer Mocktails
Craving a refreshing, bubbly drink, but trying to avoid the extra calories and sugar in that bottomless Mimosa or bottle of soda? Opt for a delicious seltzer-based mocktail.
A general recipe is: 1-2 ounces of your favorite juice, a 12 oz can of unsweetened seltzer/sparkling water of your choice, a bit of crushed fruit, and a sprig of mint for garnish—all served over a bunch of ice, of course!
One of my favorite combinations is: a couple ounces of Simply Raspberry Lemonade with Raspberry Lime Sprindrift Sparkling Water, a squeeze of lemon, and 3-4 crushed raspberries.
Lightly Sweetened Iced Tea
Sipping sweet tea on the back porch is a classic summertime activity in the South. While hydrating, most commercially prepared sweet teas are loaded with sugar and extra calories. Try brewing your own pitcher of tea, adding just a hint of sweetener, and spicing it up with fresh citrus slices.
For the perfect summertime iced tea, brew a pitcher of black tea (or try rooibos tea for a mild, herbal alternative), add 1 tablespoon of honey or sugar to the whole pitcher, and garnish with a generous amount of fresh orange and lemon slices.
Homemade Fruit Pops
Popsicles are a fun way to stay cool and hydrated in the summer. They can also be a great way to sneak some extra fruit and water into a stubborn tot who likes to play at the playground all afternoon but refuses to drink anything. They are super easy to make—just look for a 4-ounce popsicle mold, then pour in 1 ounce of water, 1 ounce of juice, and roughly 2 ounces of finely chopped fresh fruit of your choice. Mix and freeze. Here are a couple of my favorite combinations:
1 oz water, 1 oz apple juice, 2 oz of mashed banana and finely chopped strawberries
1 oz water, 1 oz Simply Tropical Juice Drink, 2 oz of finely chopped fresh pineapple
Drinking enough water is essential for your health, especially during the summer when you are sweating more than usual. Try the above tips to stay hydrated, while minimizing added sugar and calories.
This message was written by Emily Padian, MPH, Registered Dietitian, Licensed Dietitian Nutritionist for Maria Kennedy, RD LLC 401 Keisler Dr, Suite 101, Cary, NC 27518.