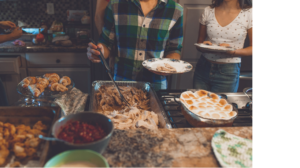 Ahhh, Thanksgiving—a lovely little holiday often synonymous with food comas and extra pounds. But eating healthy doesn't mean missing out on Thanksgiving! Just use the following tips to eat sensibly, stay safe, and enjoy a scrumptious day of feasting.
Watch Portion Sizes
Aim to make half your plate vegetables—go ahead and load up on veggies like green beans, brussels sprouts, beets, squashes, roasted carrots, and salads. (Check out the recipe for an Autumn Salad below). Make a quarter of your plate protein, for example turkey. Limit carbohydrates like stuffing, mashed potatoes, corn, sweet potato casserole, and dinner rolls to a quarter of your plate.
Choose a smaller dinner plate. Studies show that people who use smaller plates choose smaller portions and eat less overall.
Skip the seconds—especially if you'd like to have a slice of pie instead.
Eat slowly. Enjoy and savor your food!
Stick with Water
Don't forget that calories in juice, soda, and alcohol add up quickly. Try to stick to water or seltzer and save your calories for the good stuff!
Get Active
Treat your body well (and burn a few extra calories) by hitting the gym in the morning, or simply going for a walk with family and friends after your Thanksgiving dinner.
Remember Food Safety
It's important to follow basic food safety guidelines, especially when preparing your Thanksgiving turkey, to keep your family healthy and avoid a nasty case of food poisoning.

Don't wash your turkey—washing won't get rid of bacteria like salmonella or campylobacter, it will just splash them all over your kitchen, increasing the risk of cross-contamination.
Thaw a frozen turkey in your refrigerator. Plan ahead as it takes about 24 hours for every 5 pounds of turkey.
Use a meat thermometer to make sure the innermost parts of the thigh, wing, and breast have all reached a safe internal temperature of 165°
Refrigerate all leftovers within 2 hours and consume within 3-4 days.
Try Something New
Thanksgiving is the perfect time to experiment with some new recipes or to get creative and revamp some old favorites with a healthy twist. Check out the recipes below for some inspiration.
Autumn Spinach Salad
This delicious, sweet and savory salad is the perfect new addition to your Thanksgiving spread! This recipe was shared with me by Maria Kennedy, MPH, RD, LDN.
Ingredients
Spinach leaves, approximately 4 cups
1 fresh pomegranate, wash, cut, and pull out seeds (need about ½-1 cup seeds)
Grapes, wash and slice (about ½-1 cup)
1-2 pears, wash and cut into bite-sized pieces
Balsamic vinaigrette (whisk together 2 tablespoons balsamic vinegar, 1 tablespoon olive oil, 1 tsp mustard, 1 tablespoon honey, and a pinch of salt and pepper)
Blue cheese, 2-3 tablespoons crumbled (substitute feta or goat cheese if preferred)
Directions
Combine ingredients in a large bowl and toss until well combined. Makes about 4 servings.
Cauliflower Mashed Potatoes
This recipe combines cauliflower and potatoes to increase your veggie intake, while cutting back on carbs. Fresh garlic and a bit of butter and cheese make it rich and satisfying, just like the traditional dish. It is sure to be a hit at your Thanksgiving table!
Ingredients
1 medium head cauliflower, washed and chopped
1 large russet potato, peeled and chopped
2-3 cloves fresh garlic, peeled and minced
1 tablespoon cream cheese, softened
2 tablespoons parmesan cheese, grated
2 tablespoons butter, softened
¼ cup milk
Pinch of salt and pepper
Fresh chives, chopped (for optional garnish)
Directions
Bring a large saucepan of water to boil over high heat.
Add potatoes and cook for 10 minutes. Add cauliflower and cook for an additional 6 minutes, or until potatoes and cauliflower are tender but still firm; drain well.
Turn off heat. Return potatoes and cauliflower to saucepan. Add garlic, cream cheese, parmesan cheese, butter, milk, salt and pepper. Puree with an immersion blender (or food processor) until almost smooth, adding a bit more milk, if necessary, for blending. Top with fresh chives, if desired. Makes about 6 servings.
Vegetable and Whole Grain Stuffing
This easy, oven-baked stuffing recipe is full of bold, classic flavors, while packing some extra veggies and whole grains.
Ingredients
1 16-ounce package of 100% whole wheat bread, cut into 1-inch cubes
2 tablespoons olive oil
2 tablespoons butter
1 yellow onion, peeled and diced
4-5 cloves garlic, peeled and minced
2 stalks celery, diced
1 8-oz package of prewashed, sliced mushrooms (white or baby bellas)
1 red pepper, seeded and diced
Fresh sage leaves, about ¼ cup chopped
Fresh thyme, about 1-2 tablespoons of leaves
2 large eggs, beaten
2 cups low-sodium chicken stock
Pinch of salt and pepper, to taste
Directions
Preheat oven to 250° Spread the bread onto a large baking sheet and bake for about 45 minutes, or until the bread is crisp and toasted, stirring every 15 minutes.
Heat olive oil and butter in a large skillet over medium-high heat. Add onions, garlic, celery, mushrooms, and red pepper. Sauté for about 15 minutes, or until the vegetables are soft. Add fresh sage and thyme. Sauté for an additional minute and turn off heat.
In a large bowl, beat the eggs, stock, and salt/pepper together. Fold the toasted bread and vegetables into the egg mixture.
Spread into a greased, large (3-quart) glass baking dish. Cover with foil and keep in the refrigerator (up to 24 hours) until ready to bake.
When ready to bake. Preheat oven to 400° Bake covered for 30 minutes, then remove foil and bake for an additional 15-20 minutes or until the top is lightly browned. Makes about 8 servings.
Follow the tips and try the recipes above for a healthy, safe, and delicious holiday. Happy Thanksgiving!