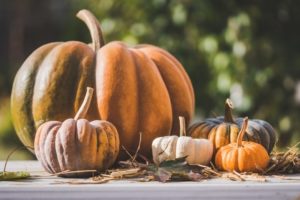 Fall is officially here—the air is chilly, leaves are turning colors, and pumpkins galore are found in every grocery store. But did you know that pumpkins are a lot more than just pretty fall decorations? They are nutritional powerhouses packed with healthful fiber, antioxidants, and vitamins.
While one cup of cooked pumpkin has only 50 calories, it contains 3 grams of fiber to keep you full, an assortment of carotenoid antioxidants that fight free-radical damage, and over 100% of your daily vitamin A requirements for maintaining healthy vision, bones, and skin. Even canned pumpkin (as long as it's the unsweetened kind with no added ingredients) has comparable nutrients!
Here are a couple of my favorite fall pumpkin recipes:
Pumpkin, Apple, and Red Lentil Soup
This pureed pumpkin soup recipe is light, healthy, and delicious! Even the two kiddos love it at our house and we never have any leftovers, despite the recipe yielding about 6 cups.
Ingredients:
1 onion, diced
3 cloves garlic, peeled and chopped
Olive oil, 1-2 tablespoons
Maple syrup, 1 tablespoon
1 quart low-sodium chicken broth or vegetable broth
1 small pie pumpkin, peeled, seeded, and cut into chunks
1 large granny smith apple, peeled and chopped
1 cup red lentils, rinsed and sorted
Curry powder, 1 teaspoon
Pinch of salt and pepper to taste
Directions:
In a large saucepan, sauté onions in olive oil until they begin to brown. Add garlic and maple syrup and sauté for an additional minute.
Add pumpkin, apples, lentils, broth, and spices. Cover and bring to a boil. Then uncover and simmer for approximately 45 minutes, or until lentils and veggies are soft and fully cooked. Lentils absorb lots of liquid, so check the pot every 15 minutes or so, stir, and add a half cup of water if the soup is looking dry.
Turn off heat. Use immersion blender to fully puree soup. Serve with toasted pepitas for garnish if desired!

Recipe Tip: If you are short on prep time, a package of pre-cut and peeled butternut squash from the produce section is a quick and lovely substitute for the fresh pumpkin in this recipe.
Pumpkin, Turkey, and Black Bean Chili
This warm, hearty recipe uses canned pumpkin and is perfect for a cold day. It has been a favorite
at our house for many years. We always serve it on Halloween with cornbread muffins as a side and two pieces of Halloween candy for dessert after trick-or-treating.
Ingredients:
1 cup onion, diced
Olive oil, 1-2 tablespoons
3 cloves garlic, minced
1 jalapeno pepper, seeded and minced
Lean ground turkey, 1 pound
Maple syrup, 1 tablespoon
Cumin, 2 teaspoons
Chili powder, 1 teaspoon
2 stalks celery, thinly sliced
2 large tomatoes, chopped
Tomato paste, 2 tablespoons
1 sweet potato, peeled and diced
2 cans black beans, rinsed
2 cups water
1 can pure pumpkin puree (no sugar added)
Pumpkin pie spice, ½ teaspoon
Pinch of salt and fresh ground pepper to taste
Directions:
In a large saucepan, sauté onions in olive oil (3-5 minutes) until they begin to caramelize and brown. Add garlic, jalapeno, maple syrup, cumin, chili powder, and ground turkey. Sauté until turkey is lightly browned.
Add celery, tomatoes, tomato paste, sweet potato, black beans, and water. Cover and bring to a boil.
Stir in pumpkin puree and pumpkin pie spice. Reduce heat and simmer for 1 hour, stirring occasionally to prevent sticking and adding water as necessary. Add salt and pepper to taste. Serve hot. Garnish with a dollop of sour cream, shredded cheddar, and/or fresh chives, if desired.
Whole Wheat Pumpkin Muffins
This yummy, high-fiber muffin recipe was shared with me by Maria Kennedy, MPH, RD, LDN.
Ingredients:
Whole wheat flour, 1 ¾ cup
Sugar, ¾ cup
Oat bran or oats, ½ cup
Baking soda, ½ teaspoon
Baking powder, ½ teaspoon
Salt, ½ teaspoon
Nutmeg, ¼ teaspoon
Cinnamon, ½ teaspoon
Cloves, ¼ teaspoon
Plain canned pumpkin, 1 cup (not pumpkin pie filling)
2 eggs
Unsweetened apple sauce, ½ cup
Vanilla extract, 1 teaspoon
Directions:
Preheat oven to 350°
Combine dry ingredients in one bowl and mix well. Mix wet ingredients in another bowl and mix well. Mix wet/dry ingredients together until well combined.
Spray muffin pan with nonstick spray. Pour batter into muffin pan. Bake at 350°F for 20-25 minutes or until toothpick inserted into center of muffin comes out clean. Can be served plain or with whipped cream cheese.
Pumpkin is both nutritionally dense and delicious. So, what are you waiting for? Try the recipes above or experiment with adding pumpkin to smoothies, oatmeal, lasagna, or any of your favorite recipes this fall. Your body will thank you!
This message was written by Emily Padian, MPH, Registered Dietitian, Licensed Dietitian Nutritionist for Maria Kennedy, RD LLC 401 Keisler Dr, Suite 101, Cary, NC 27518.