Meal planning with the plate method is a simple way to create healthy, balanced meals. Plan your dinner plate with the following three easy steps: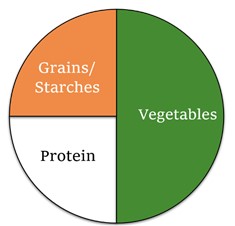 Fill half of your plate with non-starchy veggies, such as asparagus, beets, broccoli, cabbage, cauliflower, cucumbers, eggplant, green beans, kale, lettuce, mushrooms, onions, peppers, radishes, spinach, and tomatoes.

Make a quarter of your plate protein. Good sources of protein include chicken, fish, shrimp, beef, eggs, tofu, cheese, and nuts.

Fill a quarter of your plate with high-quality carbohydrates. Choose starchy vegetables (e.g., corn, peas, potatoes, winter squashes, and beans) or whole grains (e.g., whole wheat bread and pasta, oats, quinoa, and brown rice).
Quick Tips:
Chop fresh veggies ahead of time and store in bags in the refrigerator.

Keep a stash of frozen veggies in the freezer.

For easy preparation and minimal clean-up, try cooking everything in the same pot or tray.

For example, preheat your oven to 400°F. Prepare a shallow baking dish or tray with chicken breast strips, peeled and chopped sweet potato, and sliced bell peppers and asparagus. Drizzle with a simple marinade of olive oil, lemon juice, mustard, honey, a small pinch of salt, and oregano. Bake for approximately 35 mins, or until potatoes/veggies are tender and the chicken reaches an internal temperature of 165°F. Halfway through the cooking time, flip the chicken strips and add a bit of water to the bottom of the tray if it's looking dry.

Cooking in a crockpot is another great option! For this easy chicken and vegetable chili recipe, just throw all the ingredients into your crockpot in the morning, set it on low for 7-8 hours, and you'll have a hot, balanced meal ready for you when you come home from work. Combine: 1 lb chicken breast (boneless, skinless, diced), 1 small onion (diced), 1 yellow pepper (diced), 2 stalks celery (chopped), 1 small zucchini (diced), 1 clove garlic (minced), 2 cans diced tomatoes, 1 cup low-sodium chicken broth, 2 cans great northern beans (rinsed and drained), 1 chipotle pepper (finely chopped), ¼ tsp black pepper, ¼ tsp salt, 1 tsp chili powder, ½ tsp cumin powder, and ½ tsp oregano. Top with some fresh chives, a dollop of sour cream, or some shredded cheddar cheese if desired. This recipe makes 8 servings, but it freezes great for a later meal!

Here a couple of quick, healthy meal hacks for when you don't have time to cook:
Stop at the store and buy a rotisserie chicken, a loaf of whole wheat bread from the bakery, and a head of broccoli. Cut the broccoli into small florets and lightly sauté in olive oil with a small pinch of salt until tender-crisp.

Keep a low-sodium canned soup like

Amy's Organic Light in Sodium Lentil Soup

in stock in your pantry. Heat it up over the stove and add in half a bag of fresh (or frozen) spinach and a squeeze of fresh lemon for a quick and tasty meal.

Keep some hard-boiled eggs in your fridge. Assemble a quick, colorful plate with a sliced hard-boiled egg, a combination of some leftover chicken/slices of lunch meats or cheese cubes, a handful of nuts if desired, and a selection of whatever fresh fruits and vegetables you have on hand.
The plate method provides a simple formula for creating healthy dinners with infinite possibilities and combinations that can be tailored to your time, preferences, and cooking skills. Happy eating!
Written by Emily Padian, MPH, RD, LDN for Maria Kennedy RD LLC
401 Keisler Dr Suite 101, Cary, NC 27518
919-524-6551